Sometimes I need to watch a film in silence. There are some films that require concentration, contemplation and an atmosphere that fosters focus. Generally, these films are showing at Curzon cinemas, and luckily, my favourite spot for watching exactly this sort of film happens to be a Curzon venue;
The Renoir.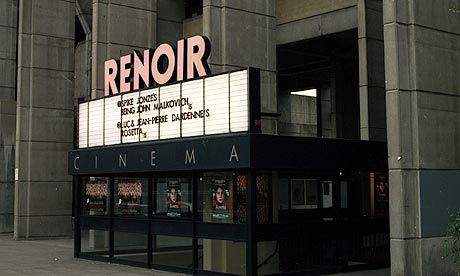 The Renoir is a peculiar little cave of a cinema; the bulk of the venue underground with a small black box of an entrance in the street above. Two screens, not huge but decently sized. The seats are plain, not even a cup holder for your drink. You won't find popcorn or syrupy fizz at the bar, wine is the order of the day. I tend not to purchase anything food or drink-wise at this venue, preferring to concentrate solely on the films so I couldn't guess at the prices.
The decor is perfect for an art-house joint; faded and bleak, much more jaded than its other, swisher Curzon counterparts. You can generally expect to find a sparse audience, mostly black-shirted intellectuals or the odd po-faced curator in attendance. Films vary from obscure world cinema to indie docs, notably
Artificial Eye
releases. Most recently I saw
'Breathing',
a subtle, understated Austrian flick that I must say is absolutely unmissable. I've yet to see a mainstream release showing at the Renoir but perhaps on occasion they are shown.
Ticket prices are extremely reasonable ranging from peak adult at £10.50 to early bird (screenings before 2pm) at £6. Further discounts are available with various memberships, more info on which can be found
here.
I should mention that Curzon has its own
'on demand'
facility online, though I've yet to utilise it. It seems that you can rent films digitally for a few days which is handy if you're not local to a Curzon cinema but still want to enjoy the films, as they are rarely, if ever shown at other venues and fairly difficult to get hold of elsewhere.
By far the biggest treat the Renoir and other Curzon cinemas has to offer is the
events
. Q&As, theatre and opera screenings and the ever excellent 'docdays' are absolute gems to attend. Personally I can't wait to attend choreographer
Matthew Bourne's event
coming at the Renoir, including a 3D screening of his acclaimed re-interpretation of Swan Lake and a q&a with the man himself...but then, I'm a massive dance nerd too!
If you want to truly savour a film, and enjoy difficult but rewarding cinema this is definitely the venue for you. Probably for the selection of films alone, I would name this as my absolute favourite cinema in London, a must-visit for world cinema lovers, culture vultures and documentary addicts alike.